Profile of Dr. Mohammed Mizanur Rahman
Dr. Mohammed Mizanur Rahman
Professor
Department of Applied Chemistry & Chemical Engineering
Faculty of Engineering and Technology
Email: mizanur.rahman@du.ac.bd
Phone: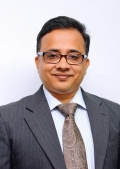 Short Biography:
Dr. Mohammed Mizanur Rahman a Distinguished Professor of Applied Chemistry and Chemical Engineering at the University of Dhaka received his Ph.D. in analytical and environmental chemistry from Kumamoto University, Japan in 2005. He was a gold medal recipient of Bangladesh Academy of Science-2009 and winner of the Young Scientist Award of Third World Academy of Sciences (TWAS, Triste, Italy, 2010). He was also awarded the illustrious Japan Society for the promotion of Sciences (JSPS, Japan) & Alexander von Humboldt (Germany) postdoctoral fellowship for his outstanding caliber in research. In 2020, Dr. Rahman successfully completed his five-year tenure as the Director and CEO of the National Institute of Textile Engineering and Research (NITER) where his efforts were pivotal in establishing the institute as the vanguard of textile and allied engineering education in Bangladesh. Dr. Rahman is currently serving as nominated director of Maksons spinning Mills Ltd and Bangladesh Textile Mills Association of Bangladesh. As an eminent scientist, he has published more than 180 publications in referred journals, books, and encyclopedias. The major focus of his research group is on environmental analytical chemistry, polymers, and biomaterials but it also covers a broad spectrum of chemical & materials science.
Environment & Biomaterials Research Lab:
Our Research Group is devoted to contributing to the field of environment and biomaterials through the study and development based on natural polymers. This multidisciplinary area expertise in engineering, life sciences, and clinical medicine to understand the body's own biomaterials, the cellular machinery by which the biomaterials are assembled and degraded, and how the dynamic microscale interactions of these components influence tissue physiology. For more information, please visit our research group (Click here).
Google Scholar Profile: Click here