Profile of Dr. M. Nuruzzaman Khan
Dr. M. Nuruzzaman Khan
Associate Professor
Department of Applied Chemistry & Chemical Engineering
Faculty of Engineering and Technology
Email: mnuruzzaman.khan@du.ac.bd
Phone: +880-2-9661920-70/7403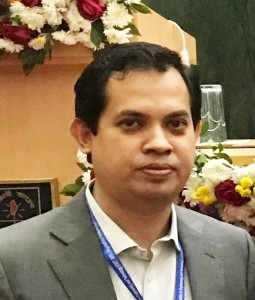 Short Biography:
Dr. M. Nuruzzaman Khan is an Associate Professor of Applied Chemistry and Chemical Engineering at the University of Dhaka. He achieved his B.Sc. and M.Sc. degrees in Applied Chemistry from the same University. Dr. Khan obtained his Ph.D. degree in Chemistry from Heidelberg University, Germany in 2014 with prestigious DAAD scholarship.
Dr. Khan has extensive work experience as an academician. He teaches Physical chemistry, Polymer science and biomaterials, Nanotechnology, Energy at University. He had worked as a principle and associate investigator in several research projects funded by TWAS-COMSTECH (www.twas.org), ISESCO (www.isesco.org.ma), OPCW, Ministry of Science and Technology (MOST), Ministry of Education (MOE) and University Grant Commission (UGC), Bangladesh.
Dr. Khan was awarded a postdoctoral fellowship to conduct research on nano-biomaterials in Japan under Japan Society for Promotion of Science (JSPS) program. He was awarded highly prestigious DAAD scholarship (Germany), JSPS (Japan), Lindau Noble Laureate scholar (Germany) and Dr. Sophie Bernthsne Foundation Germany Best Doctoral Researcher Award (2013) for the extensive research work in Surface and Materials Sciences. He is author/co-authors of over 26 research articles in reputed and high impact international journals and about 15 book chapters from Springer-Nature, Nova, Taylor&Francis, UK and Elsevier, Netherlands publishers. He is the reviewer of several reputed international journals.