Profile of Dr. Md. Akhter Hossain Khan
Dr. Md. Akhter Hossain Khan
Professor
Department of Soil, Water & Environment
Faculty of Biological Sciences
Email: akhterkhan@du.ac.bd
Phone: +8801817727790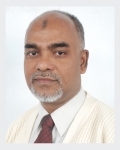 Short Biography:
Dr. Md. Akhter Hossain Khan, a Grade One Professor of the Department of Soil, Water and Environment, was born in Rangunia of Chattagram district. Dr. Khan passed SSC Examination from Muradnagar High School of Cumilla in 1974 and HSC from Chittagong College in 1976. He was awarded Primary, Junior and SSC merit scholarships. He started pursuing his under graduate degree in English at Chittagong College. However, after completing 1st year in English department, he got admitted in the Department of Soil Science at the University of Dhaka. He passed B. Sc. (Hons.) in 1981 securing 1st Class and M. Sc. in 1982 securing 1st Class with 1st position in order of merit.
After his graduation, Prof. Khan started working as a Scientific Officer in a Research Project of BARC funded by the World Bank. At the end of 1989 he left the country to pursue higher study in USA. He earned the Ph.D. degree from the Department of Agronomy at Kansas State University. Dr. Khan also did his Post-Doctoral Fellowship at Kansas State University, USA. During his tenure at KSU he was awarded prestigious scholarships like Neal and Florence E Morehouse Graduate Scholarship (in 1992 and in 1994), and Roscoe Ellis, Jr. Graduate Scholarship (in 1993).
Dr. Khan was very much involved in social and political activities at Kansas State University. He was elected as a Graduate Senator at the Student Senate of Kansas State University. He also served as the elected Vice President of the International Coordinating Council, President of the Bangladesh Student Association, and President of the Islamic Center of Manhattan, KS.
In 1997, Dr. Khan came back home and joined as an Assistant Professor in the Department of Soil Science, at the University of Dhaka. He became a Selection Grade (Grade One) Professor in 2017. He has supervised a number of Graduate students. He has published research articles in internationally renowned journals like Agronomy Journal, Journal of Plant Physiology, Journal of Soil Science Society of America, and Transections of the American Society of Agricultural Engineers. Dr. Khan also served as the Executive Editor of the Bangladesh Journal of Soil Science.
Prof. Khan served the University of Dhaka as an elected Senate member. He was the Provost of Amar Ekushey Hall for more than six years. He served as the President of the Dhaka University Club. Prof. Khan was also elected as the Vice President of Dhaka University Teachers Association (DUTA) for two consecutive terms.