'The Week of the Italian Language' has been celebrated today October 21, 2021 at the Institute of Modern Languages (IML) of Dhaka University (DU) marking the 700th death anniversary of Italian famous poet, writer and philosopher Dante Alighieri. The Embassy of Italy in collaboration with the IML of DU has organized a virtual exhibition and a workshop on 'Dante 700' to celebrate the week. Dhaka University Vice-Chancellor Prof. Dr. Md. Akhtaruzzaman inaugurated the program as chief guest.
Ambassador of Italy in Bangladesh Mr. Enrico Nunziata, Political Attaché of the Embassy of Switzerland in Dhaka Mr. Thomas Baumgartner, Deputy Head of the Mission of the Embassy of Italy in Dhaka Dr. Mattia Ventura and Prof. of Italian Language Course of IML Dr. Stefania Chiapello addressed the program. Director of DU Institute of Modern Languages Prof. Dr. A. B. M. Razaul Karim Faquire conducted the program.
Dhaka University Vice-Chancellor Prof. Dr. Md. Akhtaruzzaman urged the students to learn Italian Language for strengthening academic and economic relationship between Bangladesh and Italy. Terming Dante Alighieri as the great poet the VC said, he had inspired people to make an inclusive society across the world. He stressed the need for enrollment of more students in Italian Language course at IML of DU to gather knowledge about ancient Italian civilization.
Italian Ambassador Mr. Enrico Nunziata thanked the Dhaka University authorities to extend support and cooperation for holding this colorful program. The relationship among the people of the two countries will be further strengthened through this program, he hoped.
(Md. Rafiqul Islam )
Deputy Director
Public Relations Office
University of Dhaka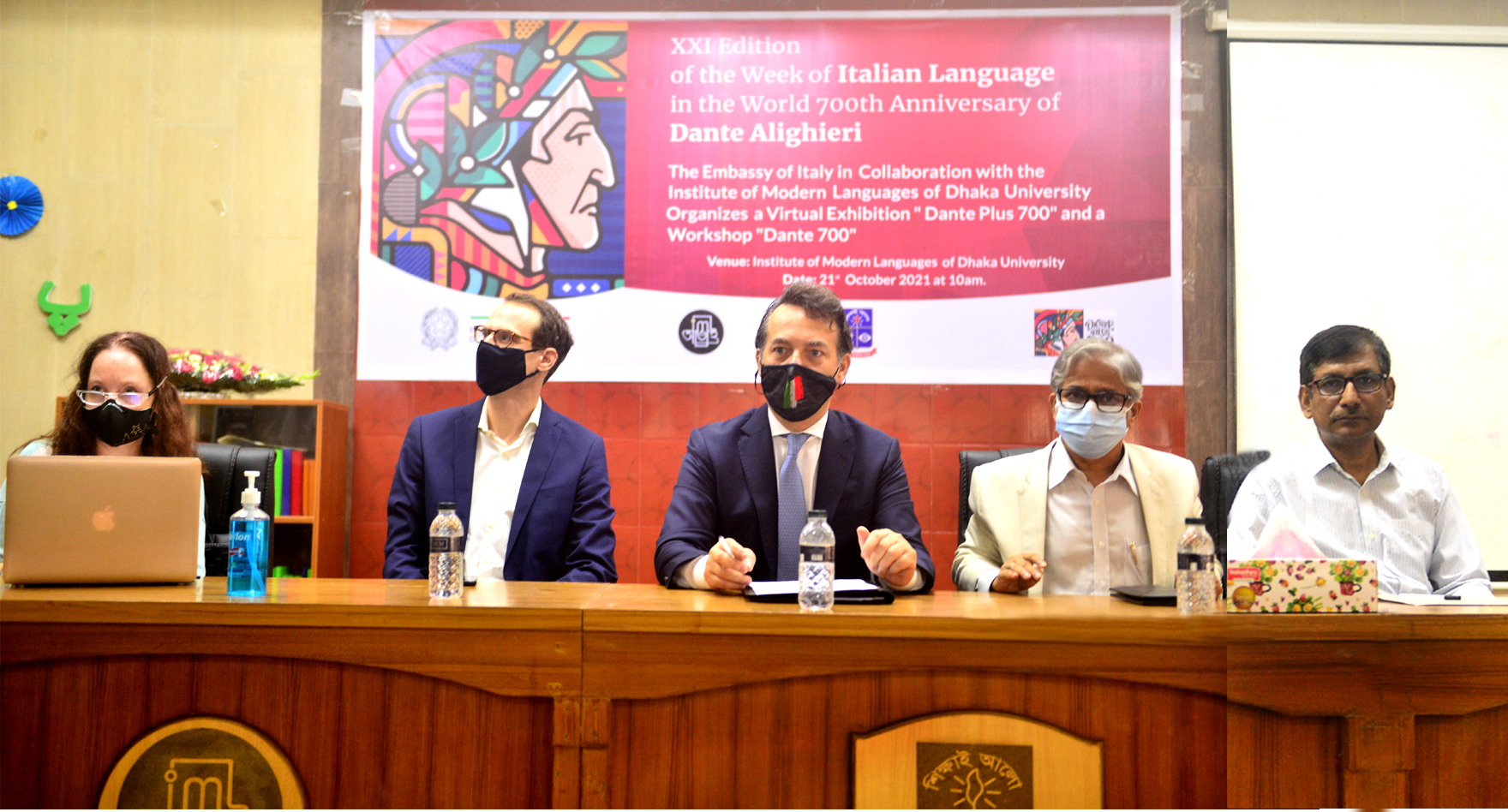 Caption
'The Week of the Italian Language' has been celebrated today October 21, 2021 at the Institute of Modern Languages of Dhaka University marking the 700th death anniversary of Italian poet Dante Alighieri. Dhaka University Vice-Chancellor Prof. Dr. Md. Akhtaruzzaman inaugurated the program as chief guest. (Photo: DU PR Office)