A three-member delegation led by Prof. Keeseon S. Eom of the Department of Parasitology of Chungbuk National University, South Korea called on Dhaka University (DU) Vice-Chancellor Prof. Dr. Md. Akhtaruzzaman today December 05, 2021 at the latter's office of the university. Other team members were Dr. Hansol Park and Dr. Dongmin Lee. Chairman of the Department of Zoology of DU Prof. Dr. M Niamul Naser was present on this occasion.
During the meeting they discussed various academic issues including the development of newly established parasitology laboratory at DU Zoology Department. The Korean team members expressed willingness to work together with DU teachers, researchers and students for conducting advanced level research. It may be mentioned that a MoU between the two universities has already been signed to develop parasitology laboratory at DU.
The Vice-Chancellor thanked the guests for their visit to DU and keen interest in its academic and research activities.
(Md. Rafiqul Islam)
Deputy Director
Public Relations Office
University of Dhaka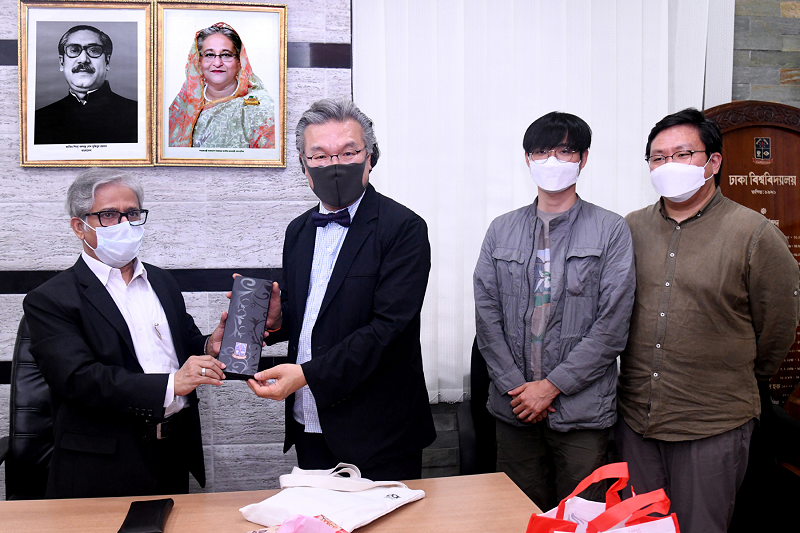 A three-member delegation led by Prof. Keeseon S. Eom of the Department of Parasitology of Chungbuk National University, South Korea called on Dhaka University Vice-Chancellor Prof. Dr. Md. Akhtaruzzaman today December 05, 2021 at the latter's office of the university. (Photo: DU PR Office)